Interior & Exterior Painting Experts
Carolina Roofing Siding Painting provides exceptional painting services to homes and businesses throughout the Charlotte, Spartanburg and Greenville areas. Whether you have a small room in your home you want painted or a commercial building that needs fresh exterior paint, call us today for a free quote.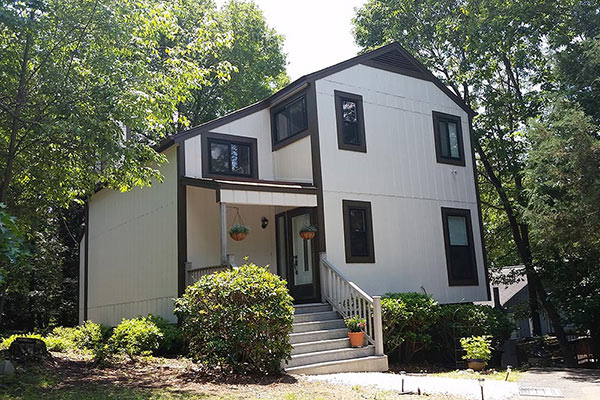 Exterior Painting
Not all interior painting companies have the knowledge or experience to paint the outside of a home or building. It requires different preparation and equipment. When we paint an exterior, we do it right so it looks great for years to come. Here's how we do it:
Pressure-wash the entire exterior.
Scrape and/or sand the exterior.
Seal cracks.
Fill holes.
Caulk windows and doors (if we're painting those).
Of course, we will use the highest quality exterior paints. You can be assured that Carolina Roofing Siding Painting will take caution to protect your personal property, including landscaping.
Interior Painting
Whether it's time to repaint your entire interior or you have just a room or two that need a refresh, you can trust our experienced interior painting team. We have the tools and knowledge to do the job right. Need drywall repair or new moulding installed because of a roof leak? We can do that too and add it to your storm damage insurance claim.
Contact Us for All Your Residential & Commercial Painting Needs
Whether your commercial building needs new exterior paint or your home needs interior painting throughout, Carolina Roofing Siding Painting can help. We offer both interior and exterior painting services to homes and businesses. You can be assured that our professional team provides quality service and uses premium paints so the job we do for you will look great for years to come. Call us today to schedule your free estimate at (864) 472-9716 or fill out our contact form.