Looking at New Vinyl Siding?
We may be best known as experienced roofers, but we're also an exceptional siding company. It is our goal to help you find the right new vinyl siding for your home! If you are ready for a free quote for new siding, call Carolina Roofing Siding Painting today. Ask about our simple and confidential financing options too!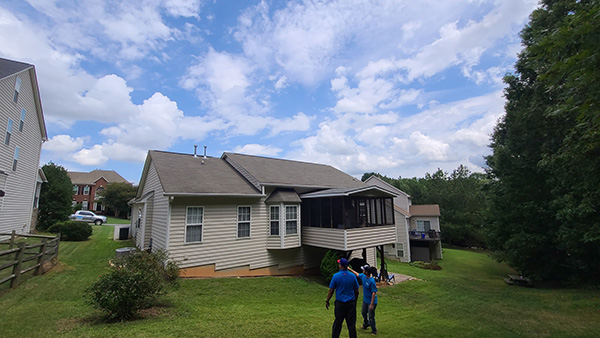 Benefits of New Vinyl Siding
New vinyl siding differs significantly from what is likely on your home today. Vinyl siding is no longer flat and cheap-looking. Today's vinyl siding comes in many styles and colors that coordinate to create a stunning look for your home's exterior. Other benefits include:
Less maintenance. Today's vinyl siding requires little more than the occasional rinse with a hose.
Improved energy efficiency. Whether you choose new siding with built-in insulation or a whole-house wrap beneath your siding, you will enjoy lower utility bills.
A quieter home. Perhaps the biggest surprise to many homeowners is that their home is quieter with new siding. Between the tighter installation and insulation, you will likely notice the same.
Fewer drafts. Some would argue that this falls under improved energy efficiency. However, because you may only notice lower utility bills a few times a year, we like to list this benefit separately.
Why Choose Carolina RSP
After over 30 years in the construction industry, we know what products perform and last. When you trust Carolina Roofing Siding Painting with your siding needs, we can help you choose the right style and color for your home. Then we'll install it to manufacturer and local building code requirements. You can enjoy a more comfortable and attractive home for years to come. In addition, we are fully insured and accept storm damage insurance claims.
Contact Carolina Roofing Siding Painting for Your Free Siding Estimate
We want to be your siding company. Call Carolina Roofing Siding Painting today to schedule your free estimate at (864) 472-9716 or fill out our contact form. Considering financing? Be sure to ask your consultant about our financing options.